Frequency Healing Available in Enlightened Styles Salon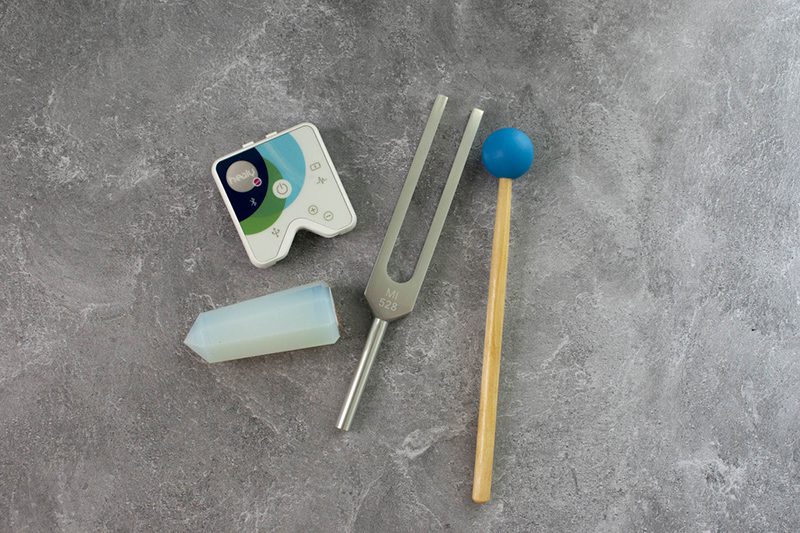 If you have read anything about Frequency Healing, you may have read about a product we recently introduced to our clients here at the Salon: Healy. Healy is a wearable device that was created to enhance your health using frequencies to, literally, raise the vibration in your most basic structure, your cells.
The Science Part
The development of this "microcurrent medical device" is based on decades of scientific data and research. It has also been cleared by the U.S. Food and Drug Administration for use in the local relief of arthritis pain and overexertion but there are "non-medical applications that use Individualized Microcurrent Frequencies to harmonize your Bioenergetic Field" according to the Healy website.
Now that we have the science behind it, you probably want to know what it is doing in a hair salon. Great question! You may have guessed that the salon is interested in the Bioenergetic Field applications and we have been quietly introducing it to clients since November 2020 when they come in for an appointment. Now, we feel comfortable offering it as a service to the public.
The "What Does This Mean" Part
We have learned that Healy can do quite a lot of things for anyone. You can request a reading that I send to your phone to learn about the energetic shifts you are experiencing, OR you can select from a variety of settings that direct energy into something you want to repair. There are programs for Sleep, Beauty, Fitness, Work, Learning, and so many more! By the way, we do not have to store any personal information. but we can so that you can see how things change over time.
Case Study
One client looked at the readout and said it was shocking how accurately the Healy identified issues she was having: her sciatica was painful, and she felt chronic discomfort in her abdomen and hips. During her haircut, she wore two electrodes on her wrists and…did nothing unusual for a trip to the salon. She felt refreshed after wearing Healy (the haircut helped of course!) but she noted the next day that her hips felt better, and the pain was less bothersome.
Personally, I have worn Healy when I'm feeling particularly stressed and out of sorts. Healy sends healing frequencies to me when I want to balance my chakras and find it hard to ground and center myself. What really intrigues me is that Healy "knows" where you feel it and sends energy directly to the area of the physical and emotional body that needs attention.
Curious? Ask me about it when you come in for your appointment!