Restore your hair and scalp.
Do you have a particular challenge you experience with the overall condition of your hair? Is it difficult to maintain? We have a variety of restorative treatments for your hair and scalp. Using natural botanicals and herbal formulas, we can address any concerns you have and bring those locks to life!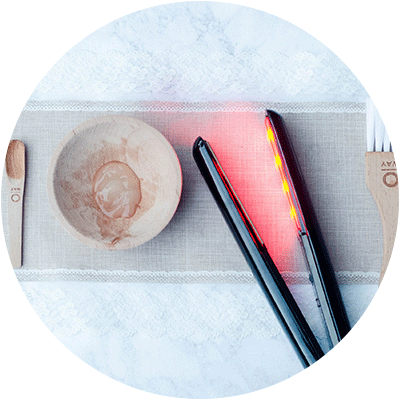 Hair Rebuilding Treatment
For Damaged, Weak, Brittle Hair
Don't let repeated chemical treatments, hot tools and mechanical stress break your hair.
Oway's Rebuilding Series takes dull, porous, straggly strands out to lunch, and feeds them much needed proteins, olgioelements, water and fatty acids.
This rebuilding method is the most innovative approach to hair repair with a method that acts on ALL needs of damaged hair, offering 8 benefits. Adds Shine, Adds Strength, Adds Elasticity, Adds Hydration, Remineralizes hair, Internally repairs cuticle, Adds body and structure, Makes hair resistant to breakage.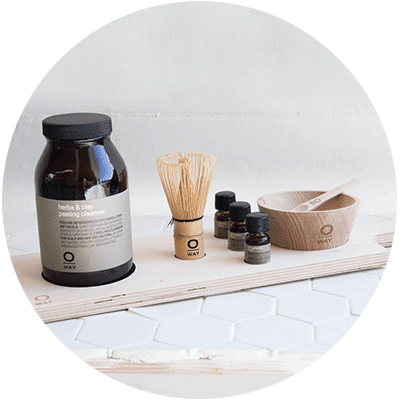 The Rebalancing line uses apothecary-style, in-salon scalp treatments and a take home regime to freshen and normalize oily scalps.
Sebum Balance Hair Bath is used at home and the salon to deeply cleanse and purify the scalp. Mint and Bugbane Extract inhibit the production of enzymes responsible for sebum overproduction.
Amazonian Control Clay's all natural astringent properties gently remove and absorb excess scalp oil.
Pure Biodynamic Sage is widely known for it's anti-microbial and anti-septic properties.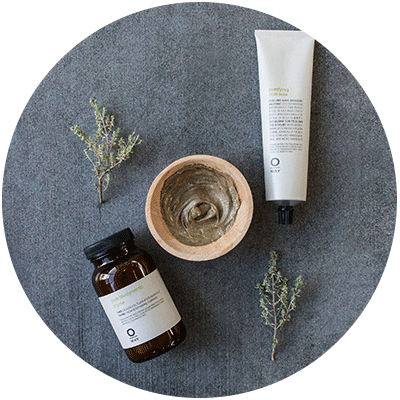 The Soothing line uses apothecary-style, in-salon treatments and at home remedies to heal and relieve red, sensitive scalps.
Soothing Hair Bath gently cleanses and calms scalps prone to redness and irritation with Biodynamic Chamomile and Fennel Seed Essential Oil.
Zanthohylum Soothing Gel is the base of Oway's Soothing Scalp Treatment. It's an Ancient Chinese herb relished for it's healing and calming properties.
Pure Biodynamic Helichrysum is known for it's anti-inflammatory benefits and is added to Zanthohylum Soothing Gel to soothe delicate, sensitive scalps.
Soothing Remedy is a concentrated spot treatment with Organic Aloe Vera and Amaranth which alleviates and protects extra sensitive areas.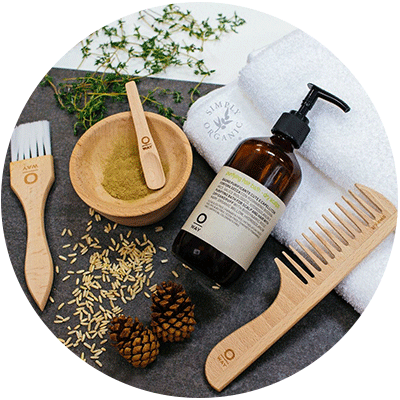 The Purifying Line harnesses nature's most powerful ingredients to cure scalps of unsightly dandruff with at home products and in-salon scalp treatments.
Biodynamic Rosemary Essential Oil has purifying and microbial properties that gently eliminate dandruff and promote healthy scalps.
Rice Wax Micro-granules delicately exfoliates the scalp, removing unpleasant flakes without damaging the scalp.
Crinipan is an innovative anti-fungal ingredient which actively fights against Malassaezia furfur – the bacteria responsible for dandruff.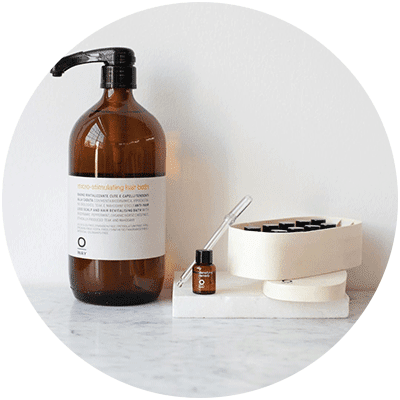 Hair loss is often the outcome of a great number of factors. To efficiently act against this delicate problem a thorough diagnosis is fundamental (with the help of the trichoanalyzer and application chart) which will focalize the unique hair-loss treatment or a methodical integrated synergy will be decided with specific anti-sebum, lipid restoration and anti-dandruff normalizing phases.
The HAIR LOSS treatment acts on two fronts: increasing hair matter and reappraisal of hair, improving its anchor point between the hair and the follicle while prolonging the hair's lifespan (Anagen Phase).
Holiday Cancellation Policy

Due to an increased demand, during the busy holiday season, we are requiring a seven-day notice of any appointment shifts or cancellations. Any appointment cancellation less than seven days in advance will result in a $50 cancellation fee per service. The fee is due prior to rescheduling any appointment due to this increased demand.
I cannot guarantee to fit you back on the schedule prior to January 5th, 2023, if any adjustments are made to this appointment after booking.
We understand that sometimes once you get home and live in your new hair for a few days, that you may find some adjustments need to be made. We are happy to make minor adjustments that align with our original consultation within 7 days of the original service. Adjustments that alter the original plan or are made more than 7 days after the original appointment will require full payment. We do not provide refunds on services.
Please arrive 5 min early for your appointment to allow for parking and to ensure your receive your full service. If you are running late I will do everything possible to accommodate you. However, if you arrive more than 10 min late your service will need to be rescheduled for a later date.